Please note that if you have any mobility issues talk to the Free Spirit staff before booking.
Palm Tree Yoga Centre is magical with its ocean views and its roof-top yoga shala.
It is placed just above the beach in a peaceful bay, yet is only a half hour stroll or a short rickshaw ride from the shops and restaurants of Kovalam.
Accommodation is spread over three houses arranged in a triangle. For large groups we also use a fourth house closer to the beach.
Massages and Ayurvedic treatments can be arranged on-site. Where specific Ayurvedic equipment is required (such as for a herbal steam bath) the treatment will take place at the nearby Ayurvedic Centre.
Sumadra Village  is less than ten minutes walk away and has several cafes, a beauty parlour (pedicure £4) and shops
Food: There is an on-site restaurant. Each day after your morning yoga class a delicious breakfast will be served.
On four evenings each week dinner will be provided. Kerala has great vegetarian cuisine so on other evenings we will explore the many local restaurants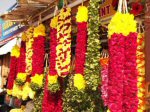 Kovalam Village: Kovalam Village is two bays away and you can either stroll in along the road or take a tuk tuk. This is a great place to shop, visit restaurants, treatment centres and places to change money.
Massages: Palm Tree has an on-site massage centre.
Swimming: The beach is directly in front of the venue, sunbeds and umbrellas can be hired at a discount. 
The Indian Ocean can be quite vigorous and have a strong under-tow so  there are well trained life guards on all beaches. The Leela beach is 5 minutes walk to the left of the venue and is protected by a reef so there the sea is normally calm and very suitable for swimming (you can also swim in hotel swimming pool at Sumadra Beach for a small daily fee - usually £2 to £3).
Excursions can be arranged for you: just ask Halin our manager and he will arange transport and the excursions for you.