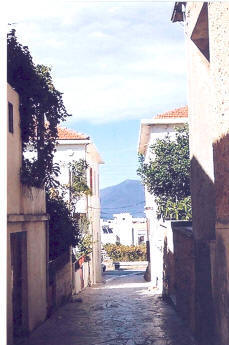 Kissamos, also known as Kastelli, is a small town which mostly sells tractors to the local farming community. There is however a network of cobbled streets  where you can find shops and cafes leading to an area which overlooks the sea where there are traditional Cretan fish restaurants.
Our yoga venue is on the very outskirts of the small town. Here the sea is clean, warm and shallow making for easy swimming with a long quiet strand of golden sandy beach with occasional shingle. Our beach is called Mavros Molos and the yoga space is above the beach looking out to sea.
Kastelli is a seaside resort which attracts Greek tourists. Behind this coastal plain the backdrop is mountainous, the area being broken into gorges and craggy peaks. This provides for many easy grade walks, the chance to see birds of prey, vultures and wild flowers and old rural ways like treading grapes.
Apart from sunbathing, swimming, snorkelling and yoga you can visit ancient ruins, take a day cruise, explore the Venetian town of Chania, walk gorges or just be still and enjoy the ocean.
Our hosts Mike and Maria own the beachside taverna. They will be feeding us after the morning yoga class and on selected evening during the week - we are keeping some evenings spare so we can visit the fish restaurants mentioned above. 
Maria is a fantastic cook and during the week there will be the option of attending a cookery class where you will be taught how to prepare traditional Greek vegetarian meals. - which we will then eat!
There will also be an optional excursion to the organic olive oil mill at Astrikas, this is world famous olive oil which you can purchase on site if you wish. It is fantastic and includes both organic lemon olive oil and organic orange olive oil. To find out more go to www.biolea.gr