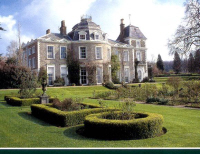 Oxon Hoath is easy to get to and only a short distance from London by train or car, making this an ideal weekend retreat.
The ancient Manor of Oxon Hoath has 73 acres of its own beautiful, tranquil gardens and parkland and is a joy to explore.
The exotic trees and romantic gardens, sweeping lawns and mysterious woodlands; hidden dells; secret gardens; courtyards and sculptured lake (perfect for sunbathing) create the perfect environment for self-discovery, profound learning and spiritual development.
Oxon Hoath was originally built more than 600 years ago by Sir John Culpepper, a Knight of King Henry V, as a royal park for the Kingdom's oxen and deer. Over the centuries the Oxon Hoath Estate has been the ancestral family home to eleven Knights of the Realm, many of whom enhanced both the house and the grounds in a fascinating variety of classical architectural styles.
The most recent enhancement was in 1846 when Sir William Geary commissioned the renowned French gothic revivalist architect Anthony Salvin to build the mansard dome, and the chateau tower. Sir William, son of Admiral Sir Francis Geary who was Nelson's mentor, also engaged W.A.Nesfield to create the formal gardens in the style of Capability Brown.
The Oxon Hoath gardens are the only surviving unaltered parterre gardens in England today.
Oxon Hoath remains in family ownership today and is preserved as an enchanting and historic country estate of the most exquisite beauty.
You may arrive by car (we will supply you with directions) or by train. There are several trains each hour from London