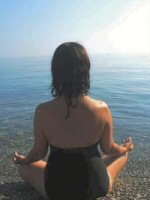 The wonderful hotel has a magical old world charm combined with fun staff.
This is an eco  hotel with 47 acres of pesticide free land, containing a farm, vineyards, woods and countryside,  its own golf course and its own beach - reached by a lift which goes down the face of the cliff.
The small private beach has sun terraces with loungers, there is also a beach bar where lunch can be served.
At hotel level there is a swimming pool with sun loungers and sea views.
This hotel is also an organic farm and a vineyard. 
Fresh organic food: fruits, vegetables, olive oil, wine, eggs, homemade jams and preserves are all produced for the hotels own use. Overall they produce about 75% of the organic food served at the hotel.
The vineyards produce an excellent red, white and rosé wine.
Food here is delicious and we are on half board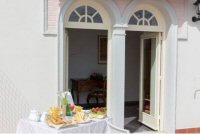 On sunny summer days we will enjoy a buffet breakfast and also dinner on one of the two beautiful terraces overlooking the sea, the indoor restaurant can be used if you prefer.
Lunch can be purchased at the hotel, or at the beach bar/restaurant, for 15 euros.
Enjoy walks on the farm, or through the wood within the grounds surrounding the hotel, feel free to explore.
The hotel also has its own organic golf course (9 holes, par 70), nicely landscaped among vineyards, olive groves and fruit trees, with a small Club House.
There are breath-taking views.
Excursions can be arranged, Ornella will talk to you about the different options when she takes you on a tour of the venue on the first morning.
   Click here for a you tube video of this venue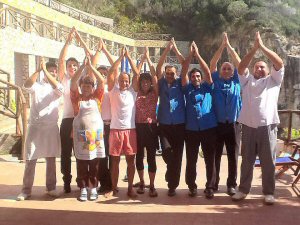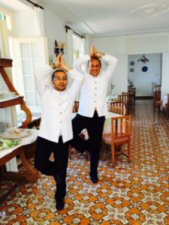 some of the hotel staff with variations on tree pose