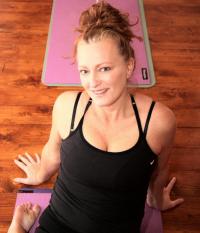 Flow Yoga and Pilates with Alessandra Margarito
This is a week devoted to improving core strength and body alignment. There will be a Flowing Yoga class in the morning and a Pilates class in the afternoon.
 
Alessandra is an intuitive yoga teacher who is experienced at guiding students of all levels though the fundamental steps of their yoga practice. Her clear teaching approach is strongly influenced by studies of anatomy giving her an understanding of how to ease bodies of all shapes and sizes into a comfortable beneficial practice.
The morning Yoga class will be based on the precision and breath work of Hatha Yoga with emphasis on flow, to create an uplifting, yet grounding practise. We will work in a progressive manner throughout the week, building a foundation for a strong integral practice exploring both classical and creatively sequenced sun salutations. We will be using the awareness of the breath to aid movement and use movement as a focus for relaxation and will finish the morning practise with some restorative yoga.
The early evening class will be a creatively adapted Pilates matwork session, drawing from both the classical and the evolved repertoire, with emphasis given to moving to the rhythm of the breath. Over the week we will be exploring a series of sequences which will tone and strengthen the whole body thus perfectly complimenting the morning yoga practice.
Alessandra's creative approach to body alignment will benefit anybody who wishes to experience greater energy, dynamic relaxation and a sense of freedom in movement.
Alessandra enjoys teaching at all levels and runs workshops and retreats all over the world as well as running her own Yoga and Pilates studio in London.
For more information about Alessandra go to her website