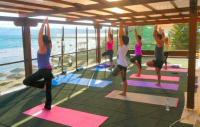 Kissamos, also known as Kastelli, is a small town which mostly sells tractors to the local farming community. There is however a network of cobbled streets  where you can find shops and cafes leading to an area which overlooks the sea where there are traditional Cretan fish restaurants.
Our yoga venue is on the very outskirts of the small town. Here the sea is clean, warm and shallow making for easy swimming with a long quiet strand of golden sandy beach with occasional shingle. Our beach is called Mavros Molos and the yoga space is above the beach looking out to sea.
Kastelli is a seaside resort which attracts Greek tourists. Behind this coastal plain the backdrop is mountainous, the area being broken into gorges and craggy peaks. This provides for many easy grade walks, the chance to see birds of prey, vultures and wild flowers and old rural ways like treading grapes.
| | | | | | |
| --- | --- | --- | --- | --- | --- |
| Arrival | Departure | Yoga | Teachers | Shared | Single |
| Oct 22 | Oct 29 | Hatha Yoga | Helen Barker | £500 | £600 |