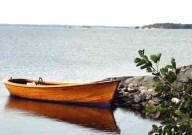 Imagine an island with no shops or cars and very few people, a perfect yoga retreat.  Try to come for as long as you are able, this is a true retreat and the befefits are amazing.
Here is a unique opportunity to experience yoga in untouched and idyllic surroundings, far away from city lights, where the sun rises at 4 am and sets at 11 pm. this island is called Kadermo and is situated about 10 km north east of Hanko. Where else can one listen to such silence, broken only by the sound of an owl hooting in the night, a woodpecker hacking away at a pine tree, a deer crying out in the morning mist?
You will stay in one of two houses. Both are old fashioned, traditional villa style, such as was common in the twenties. Water is from the well and hot water is available in the sauna, please note the toilets are also ecological as there is no running water on the island.
We now also have a Café on the island where you can enjoy coffees, healthy cakes and piano music.
This is a yoga retreat, a place to go to improve your yoga techniques, relax and concentrate fully on your well-being. 
As well as yoga there may be spontaneous boat excursions to other islands, swimming, sauna, canoeing and much much more.
This is a yoga retreat with a programme that goes across two consecutive weeks. If you have not studied with Stefan Engstrom before then it is recommended that you commence on the first week of each course.
It is possible to arrive on the second week, however please talk to the Free Spirit staff first if you need to do this.