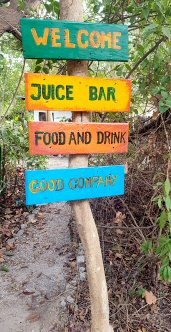 We are delighted to have this new venue, with its brand new yoga space, dipping pool, great locally grown organic food, on-site classes of cloth dying and silversmith work. To reach the beach you walk through the women's farm.
It is delighful!
More information
Footsteps Eco Lodge is an Award Winning Eco Lodge and is 100% operated on sustainable and ecological principles.
The lodge is in a stunning rural tranquil location in the bush, next to a protected forest with an array of bird life and monkeys, and only a 20-30 min walk to kilometers of deserted golden sandy beaches. This is a peaceful serene natural sanctuary, an ideal place for yoga.
It offers authentic, intelligently designed, cool accommodation in natural, relaxed and friendly surroundings. The venue is completely off-grid with solar panels, hot water, composting toilets, grey water recycling and the grounds are full of fruiting trees, vegetables and flowers. It has its own plunge pool, perfect to dip and cool off in.
They are proud of the food and its quality. Meats and seafood are sourced locally from reputable suppliers. It produces its own fruit and vegetables but also source locally from neighboring farmers. The bread is baked early morning by local bakers.
Close relationships with the local community, local schools, development projects and local villages have been built over the years and guests are encouraged to visit and involve themselves with local projects and local people to enrich their experience. The staff are extremely friendly and welcoming and have been there for many years creating a warm, family atmosphere.
Things to Do
There are many interesting and unusual activities on and off site to create a unique holiday experience.
If you want to be creative there is a resident wood carver, silver smith and tailor on site. Try your hand at tie dye or local cooking. If you enjoy music try traditional djembe drumming or the local 21 stringed instrument the Kora. Every week there is a barbecue around an open fire under the stars and they have drumming, dancing, kora playing and tales from the local traditional storyteller.
If you want to relax, massage and beauty treatments are available. You can lounge on the sundeck and take a dip in the freshwater pool or stroll down to kilometers of near deserted, golden sand beaches.
Excursions
Amongst the many available:
Try the Abuko Nature reserve full of birdlife, monkeys and crocodiles
Take a relaxing boat trip through the mangrove forests
Visit the local fishing village - fishing is major local source of food
Take a nature walk with the Lodge's knowledgeable guides who can fill you in on the local wildlife, fauna or flora and give you an insight into village life. There are many lovely walks in the area or you can hire a bike.