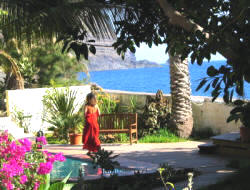 A  magical venue - this venue has it all.
Its secluded with its own organic farm, a huge choice of accommodation and two swimming pools - step over the wall and you are on the beach!
There are three meals a day, plus a choice of teas and coffee all day long.
La Gomera is one of the least known of the Canary Islands, it has a temperate climate and great tranquillity.
A small island it is extremely popular with walkers because of the contrasting landscapes;  the coastline dotted with villages, the mountainous core of misty rainforests, banana plantations and terraces.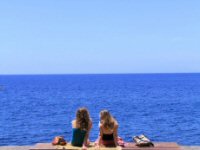 Our venue is is completely hidden along the cliff-face, in a secluded bay, ten minutes walk from the village of Vueletas.
We are beside the ocean with a pebble beach. Behind the tropical garden the land has been transformed by permaculture gardening techniques into a lush and highly productive small organic farm with its own natural spring.
The venue has two swimming pools, one smaller and sheltered for hiding away, and one full size for cooling swims in the heat of the day.
Relax in the shade of the two huge rubber trees - one holds a swing that sweeps the pool and one shades the upper deck overlooking the beach.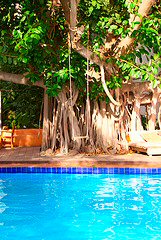 Ten minutes walk away is the village, here are lots of cafes and small shops plus an air of calmness and old fashioned tourism. There are several long sandy beaches, a great cake shop and a home made ice cream parlour - try their 88% chocolate ice cream!
For the energtic there are rainforest walks, dolphin boat rides, kayaking trips and mountain biking. Book these individually in the village or ask the office to arrange a group booking.
A variety of early morning and afternoon meditation classes are held on-site in addition to your yoga programme,  you are welcome to attend these at no extra cost
Or just relax and spend your days basking in the sunshine on the lawns looking out to the balmy sea.