Due to difficulties within the Cuban infrastructure after the pandemic all holidays at this venue have been susupended until 2024
We have a limited amount of weeks at this venue, they are all "one-offs" for each teacher and are unlikely to be repeated.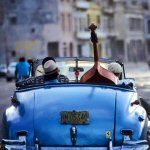 First of all may we say many thanks to Kathy Parsons from www.RetreatInsider.com  for providing us with copy and photographs, she has been leading yoga retreats at this venue for a couple of years and kindly introduced us to it.
Join us here for a week of organic healthy food, long quiet beaches and invigorating yoga practice. We are about half an hour by bus, or 15 minutes by taxi,  from what has been named one of the 7 New Wonders of the World, Havana, Cuba.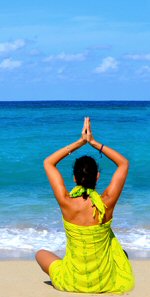 We will be staying on the beautiful beaches of Playas del Este.
Our villa is close to the beach and our hosts, the Cuban Yoga team, are like a welcoming family taking great care of us. With it's unforgettable blue waters and soft white sand beaches, Cuba forces you to slow down and catch your breath
This is your retreat - you can choose to be really active, or choose to chill in a hammock
We will be visiting Havana on a full day excursion, described as the "city frozen in time" Havana's beautiful cityscape is reminiscent of a time long ago .
Our hosts have promised to show you a side of Cuba that you won't find anywhere else. The authentic and carefree culture of the Cuban people is a welcome reminder that happiness and inner-peace can come easily. .
In addition to our daily yoga classes and being immersed in the friendly, welcoming Cuban culture, you'll have the opportunity to experience local cuisine, tour this unique and vibrant city, visit a world class organic farm, paddle board in a beautifully calm lagoon, try your hand at kite surfing (all optional), choose a spa service, or simply relax.
We may even visit a night club.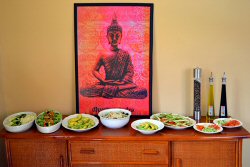 Three organic, healthy meals will be served each day by Ernesto and his team. Ernesto is an expert local chef who uses only the best ingredients grown nearby.
Although mainly vegetarian, there will be optional fish and chicken served at some of the meals and there is unlimited coffee and tea provided.
If you feel like a 'cuba libra' before dinner the staff will make you one for a small fee.
    
There will be lots of free time in the afternoon to read on the beach, or to paddle board on a beautiful lagoon. For those who would love to try a new water sport, you can sign up for lessons with the experienced and talented teachers from Havana Kiteboarding Club!
We'll also have a salsa dancing class (to get you ready for a night out in Havana if you so choose) and of course, hammocks at your disposal.
After dinner each evening, there will be a workshop or a bonfire and plenty of time for socializing or for taking time for yourself.
 
As well as the yoga clases with your teacher there will be opportuity to meet with Eduardo Pimento, the Grandfather of yoga in Cuba.  He is great fun and happy to chat about how he brought yoga to Cuba - no easy task! Eduardo is one of the most talented Iyengar trained teachers in the world, he's also a warm and kind person with an amazing sense of humour.