The Barberyn Ayurveda & Yoga Experience
Find yourself and heal your body, mind, and spirit within the holistic experience of Ayurveda, meditation and yoga, in this unique Ayurveda resort overlooking the ocean.
With more than 35 years fully dedicated to Ayurveda, Barberyn Reef welcomes its guests with warmth and a quiet competence that few resorts can match.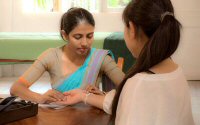 After an initial consultation you will experience Ayurvedic treatments as prescribed plus yoga on all days except our excursion day. Ayurveda is the main focus of your day for everything including the food. Please note that no alcohol or coffee is served at this venue.
This is an opportunity  to improve your health through authentic Ayurveda while on a Sri Lanka beach holiday. A long sea-front sheltered by a natural reef runs the length of the resort and forms a natural swimming lagoon. Sand stretches for miles along the shore. There is also a large salt-water swimming pool.
The resort has a casual and serene ambience. A journalist writing for 'The Nation' Newspaper in Thailand remarked:
"Lulled by the rhythmic pounding of the Indian Ocean nearby, relaxed by the kneading of daily oil massages, long-staying guests eventually emulate an aura of well-being, signalled by slower speech and a softer demeanour. No wonder that many of the guests end up rescheduling flights and extending their stays."
To view this venue on YouTube please follow the link below
Barberyn Reef overview
A typical day is as follows.
6.30-8.00am - meditation and asana practice
8.00am-9.00am - swim, walk, breakfast
 9.00am - treatments 
11.00am - juice
12.00pm-2.00pm - lunch
2.00pm - free time or more treatments if needed
4.00pm - tea
5.00pm-6.00pm - asana class
7.00pm - dinner