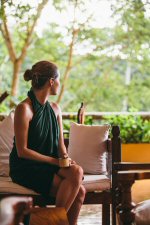 Do you dream of a full body overhaul in beautiful surroundings. Let the Ayurvedic programme (individually designed for each person), the sunshine and complete relaxation all work their magic.
Barberyn Beach provides all the facilities needed to make your Ayurveda holiday comfortable and enjoyable. It is a beautiful and elegant resort, built in a way that guests can enjoy the feeling of space and light, the sounds of nature and the huge night skies.The salt-water swimming pool overlooks the ocean. Guests enjoy yoga sessions and practice at sunrise and sundown.
You can hear the sounds of soft chanting from scriptures in the morning and evening, as you pass the entrance pavilion.
For those who seek solitude and rest, the extensive resort grounds with its lush vegetation and variety of birds provide the ideal backdrop.
Those who like company find warmth and friendship amongst fellow guests who quickly absorb the caring nature of the staff.
Our Location: the venue is ideally located on a small hill overlooking the sea, gradually sloping towards the beach.
On the left hand side of the property, we find Red Cliff Bay, where guests swim at designated times, depending on the tide.
On the right hand side of the property is Palm Beach, ideal for walking or jogging.
The extensive grounds of Barberyn Beach Ayurveda Resort, the verdant valley and the unspoiled coastline create a feeling of space where life slows down.