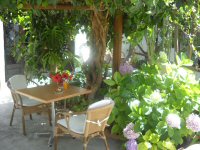 This venue is  on the beautiful thermal island of Ischia; we have chosen this venue specifically for its location, to allow you the delights of this part of the island at an affordable price.
A small family run guest house - expect simple en-suite rooms and home cooked food - chosen especially as our budget option for this expensive part of the island.
Whilst there is no swimming pool it is less than a 10 minute downhill walk to a volcanic sand beach with crystal clear waters, sunbeds and a small beach cafe.
  PLEASE NOTE: During 2023 this venue is open for accommodation only - perfect if you have a few extra days on Ischia.  Should you wish to stay there in 2023 (bed and breakfast) please ask us for further details
This is true Italy and we know you will enjoy it.
Casa Benedetto is situated in a cobbled side street in charming Succhivo, a small village.  It is close to famous St'Angelo with its picturesque narrow streets and lanes and high-fashion boutiques - you may either walk there or take the bus from the nearby bus stop..
It is also close to the Thermal Gardens (5 - 10 minutes walk) where you can relax in the hot thermal springs and have beauty treatments and massages.
Casa Benedetto has a small garden with kiwi vines, flowers and  lemon trees. To one side is a small vineyard. The upstairs terrace looks out across the roof-tops to  the sea
Five minutes walk downhill is the small beach 'Cava Grado'. Like the majority of beaches on the island it is at the bottom of the cliff, with steps leading down. Please talk to us if you have mobility issues.
Close by is the famous Sorgeto Bay, with its thermal hot springs coming from the seabed at a temperature of 90c degrees. 
A bus pass for the island is less than 15 euros per week and the buses are very frequent, circling the coast in both directions until late in the evening. Perfect for those of you who love to get out and about.
Please note that this is a family run guest house, not a purpose built yoga venue.