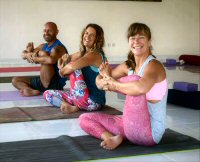 The beautiful paradise island of Koh Samui is famed for its outstanding beauty, with its palm tree edged white sandy beaches, coconut groves, crystal clear turquoise waters and dense mountainous rain-forest
It has something to offer everyone. Our stunning venue is is on a beautiful, non-touristy beach, on the southern coast of the island and is the leading wellness retreat centre in Thailand.
Our venue is a pioneer in the world of yoga retreats.
This yoga retreat will offer you the opportunity to practice yoga in-depth with experienced and inspirational teachers who share a passion, not only for yoga but for personal growth.
On this retreat there will also be plenty of down time for treatments, excursions, adventures and fun. Our aim is for you to develop and evolve both your yoga practice and your life.
We are aware that this wonderful holiday may attract partners or friends, whereby one half is a beginner yogi, or would prefer to practice at a slower, more basic level. Therefore every morning, there will also be a 'Yoga Basics' class with Brian Riley.
 Locally 
In addition, your daily programme can be supported with mind/body therapies at the spa while your soul will be fed with delicious vegetarian food.
Situated on Laem Sor beach, you are surrounded by towering coconut trees in a quiet, spacious area, with incredible sunrises and sunsets that play with the colors of the water, sand and tropical fauna.
Only a few hundred meters away is the well-known Laem Sor Pagoda, which houses the remains of Leung Poo Daeng, a realized monk.