This is an independent yoga holiday for especially for families & friends
For many seasons we looked for a venue that would work for those of you with young families who miss the yoga holidays you used to take with friends - or for small groups of friends who want an economical holiday in the sunshine with the option of yoga classes. This is what we have discovered...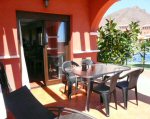 This is small self catering villa with an option to have private yoga classes at the villa, or to join the local yoga classes These take place on the seafront beside the church (or if weather is not suitable in the small yoga studio in the village).
It is a holiday best suited to families - we can provide children's yoga - or small groups of friends requiring an unstructured yoga holiday. 
The fully air conditioned villa has wifi, television, 2 bedrooms, 2 bathrooms and a combined kitchen lounge. There is an outside patio and a huge roof terrace for sunbathing.  From May to October there is also a shared swimming pool. It is 10 minutes easy walk from the closest beach
There is a small yoga shala on the roof  with views across the roof tops  to the ocean.  This is lovely for self practice, to relax out of the sunshine, or to have private yoga classes with Lisa Gibbs our local yoga teacher. It takes up to six yoga mats.
If you are travelling with more friends or another family then there is a second and third villa available.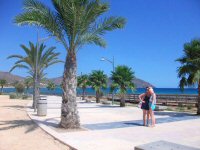 It is situated in Mojon Hills, a small newly built urbanization in a beachside village named Isla Plana on the stunning Costa Calida, in south east Spain. 
This is one of the warmest regions of south eastern Spain, with its inlets, framed by rugged mountains that announce this is the Spanish coast. Our village has small coves at one end and a sweeping sandy beach at the other.
The village of Isla Plana is small and very suitable for family holidays, there are children's play areas and the beaches are both sandy and safe to swim in.
The village itself has a well stocked supermarket, bakery, fishmongers and general store, plus several bars and restaurants.
The closest beach is 10 minutes slow walk away and uncrowded even in the height of the season, the main beach is off the central village square. The sea is crystal clear, suitable for children and swimming. The closer beach is shingle with sand at the waters edge, the main beach is sand. There is a beach bar/local social club at the main beach.
This is a village where the Spanish take their holidays, it is definitely not a tourist town - Puerto Mazzeron just 5 minutes drive away is more of a tourist centre but still mainly used by the Spanish. One word of warning, whilst this village is very quiet for 11 months of the year in August it is full of Spanish families and whilst still lovely it definitely feels a lot more lively.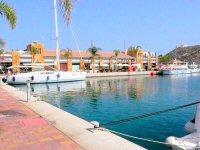 Just 5 minutes drive from the villa is the much larger resort of Puerto de Mazarrón, with a large selection of bars and entertainment, scuba diving, sailing and easy parking.
The lovely new marina here is well worth a visit with its upmarket cafes and restaurants overlooking the sea.
There are also large supermarkets, shops and a huge Sunday market.